by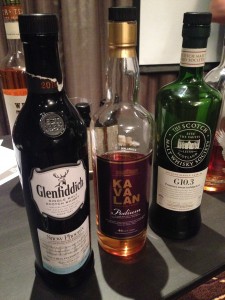 Whisky Live 2014 Masterclass with Nathan DeTienne, Rydges Hotel, $40.
I had the privilege of attending one of the Whisky Live 2014 masterclasses run by one of the most knowledgable and passionate whisky fiends that I have met, Nathan DeTienne.  For about 90 minutes Nathan not only shared his impressively vast whisky knowledge, but he also shared some special whiskies from his personal collection.
I tried not to make extensive notes for these tastings, I just wanted to soak up the info and enjoy the whisky.  Or is that soak up the whisky and enjoy the info?  In any case, apologies for the tasting notes below not being extensive enough to do these three fine whiskies justice.
As a side note, Nathan also has a whisky blog (Squidgy Ash the Whisky Fiend) that is definitely worth a look…it could even be the second best whisky blog in Perth!  Just kidding mate 😉  Check it out here: http://squidgyashwhiskyfiend.blogspot.com.au
Whisky #67: Glenfiddich Snow Phoenix Single Malt. Speyside, Scotland. ABV: 47.60%.
Colour: Golden.
Nose: Caramel, toffee.
Palate: Silky smooth entry, gentle sweetness.
Finish: Very light, like a snowflake melting in your mouth.  Ok, rubbish attempt at humour there.  I just wanted to enjoy this one, not too much to say.  Despite the lightness, the flavours linger for quite some time. But not long enough…oh wait that's because I enjoyed it so much I drank it rather quickly.
Whisky #68: Kavalan Podium Single Malt. Taiwan. ABV: 46.0%.
Colour: Copper.
Nose: Medicinal notes, slightly leathery. But not in a bad way.
Palate: Spice & heat builds gently; oily mouthfeel.
Finish: Fades to a soft oaky finish.
Comments: I had very low expectations of Kavalan. I mean, who has even heard of whisky from Taiwan?! Earlier this year I bought (but have yet to try) a 3 x 50mL tasting pack of different Kavalan expressions in the expectation that they would be prime contenders for the "Truly Awful" whisky category.  Well let me tell you, if the Kavalan Podium is anything to go by, the other three expressions will most definitely NOT be entries in the "Truly Awful" category this year.
Whisky #69: Scotch Malt Whisky Society G10.3, 24 Year Old Single Malt.  Independent bottling from Strathclyde Distillery, Lowlands, Scotland. ABV: 59.60%.
Colour: Dark straw.
Nose: Straw notes abound, plenty of wood too (and yes, I'm talking about the smell).
Palate: Bit of oak, creamy sweet flavours too.
Finish: Medium finish.
Comments: It's my first ever taste of a SMWS bottling, seeing as I've just joined the Society I'm certain it won't be the last! I believe it may also be the first Scottish grain whisky I've tasted.  Certainly keen to try some more SMWS bottlings, this one was certainly intriguing and a drop that I firmly believe you need to have more than one dram to really get to know all its secrets.