by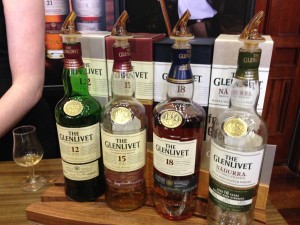 Whisky Live 2014, The Glenlivet Masterclass with Laura Hay, Rydges Hotel, $40.
Happy World Whisky Day everyone!! Right – after a brief hiatus, I am finally getting back into posting my tasting notes.  Apologies for being off the air for a few weeks – I've not been slack, I've simply been busy drinking whisky dammit!!  Anyway, lots of tastings to catch up on so let's get straight into it…
I was again privileged to attend the Whisky Live Glenlivet masterclass facilitated by the wonderfully experienced and erudite Laura Hay. Now some people might know a little about a particular region or distillery, some might even claim to know a lot. But no-one I have ever spoken to can claim to know a fraction of what Laura can about The Glenlivet, nor tell as many engaging or funny stories and historical anecdotes. Mainly because Laura grew up living and breathing Glenlivet whisky. Now that makes her sound like a raging alco (I trust you she's not, well that's what she tells us!), but she literally worked and grew up right at The Glenlivet distillery.
Anyway, in between learning some fascinating things about the history of The Glenlivet and Laura's experiences growing up there, we also got to taste quite a number of their releases. We started by tasting The Glenlivet 12 year old, but having recently reviewed it as Whisky #65 you can find the tasting notes here: http://whiskyaday.com/whisky-065/.
Next up was The Glenlivet 15 year old French Oak Reserve, which I've also covered as Whisky #23 here: http://whiskyaday.com/whisky-023/
Whisky #70, The Glenlivet 16 year old 'Nàdurra'. Speyside, Highlands, Scotland. ABV: 54.3%
Colour: Pale gold.
Nose: Lots of fruit here, also smells a bit like creaming soda – sweet and creamy.
Palate: Fresh, yet very full flavoured.  Spicy vanilla, creamy and sweet. Definitely some of those creaming soda flavours. Oily mouthfeel.  Love it.
Finish: Quite a long finish, which is great as I really enjoyed this one.
Comments: Definitely a noticeable step up from the 15 year old, both in terms of ABV and flavour.  For me, this is the pick of the bunch from today's session – but see the tasting notes below for the Glenlivet XXV for a comparison.
Whisky #71, The Glenlivet 18 year old. Speyside, Highlands, Scotland. ABV: 43.0%
Colour: Burnt toffee.
Nose: Floral, sweet, quite complex.
Palate: Very smooth, touch of sweetness and malt.
Finish: A hint of smoke, quite a dry finish.
Comments: Didn't enjoy this one anywhere near as much as the Nàdurra, as evidenced by my lack of enthusiasm for writing more comprehensive tasting notes.  Onto the 21 year old!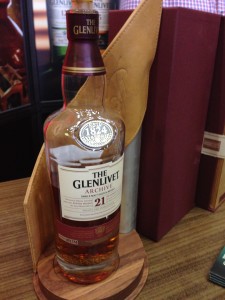 Whisky #72, The Glenlivet 21 year old. Speyside, Highlands, Scotland. ABV: 43.0%
Colour: Kind of like a light, clear tawny.
Nose: Minimal alcohol on the nose, soft hay aromas.
Palate: Toast; it has more flavour intensity, spice and complexity than the 18 year old.
Finish: Spices and warmth build around the mouth after you've swallowed.
Comments: Much prefer this to the 18 year old, has a lot more depth of character. Very keen to move onto the 25 year old now…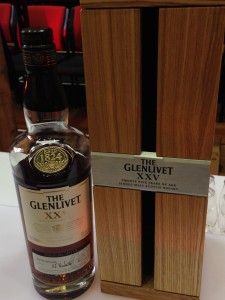 Whisky #73, The Glenlivet XXV 25 year old. Speyside, Highlands, Scotland. ABV: 43.0%
Colour: Dark caramel.
Nose: Christmas pudding aromas.
Palate: Quite a complex palate, soft and sweet but with loads of flavour.
Finish: Medium length with an oily mouthfeel; not much residual spice or heat.
Comments: Softer than the 21 year old.  It's a damn nice drop, but for the price point if you were buying a bottle (circa $500) I think there is probably better value to be had elsewhere.  But if it's on offer at a whisky event…well give me more!!  Overall though, I think the Nàdurra is the pick of the bunch – the 25 is amazing, but the Nàdurra in my opinion is a cracking whisky and at a much better price point.
In summary, fantastic Laura – a very engaging and enlightening session, I learnt a lot.  If you have the chance to attend one of her masterclasses – do it!!  Highly recommended.