by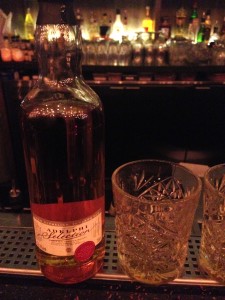 Adelphi Clynelish 1997 15 Year Old Cask Strength Single Malt. Highlands, Scotland. ABV: 53.20%. Tasted at Laneway Lounge.
Colour: Like a glowing incandescent light globe filament.
Nose: Band aids, soft hay-like scents. Quite a light nose.
Palate: Much more of a kick than suggested by the nose. Nothing too special about this one though for me.
Finish: Quite dry, salty with a gentle smokey aftertaste. Medium-long finish.
Comments: Joel enjoyed it more after adding a single cube of ice, softens it out nicely. Overall it just didn't really do it for me, hence the someone sparse tasting notes – I was just left a little underwhelmed by this one.