by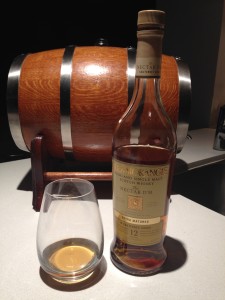 Glenmorangie Nectar D'or 12 Year Old Single Malt. Highlands, Scotland. ABV: 46.00%. Tasted at home, $85 (bottle).
Hello old friend…
I did it! So we have arrived at Whisky #365 on the 365th day of the year! As I noted at the start of the year in my "What is Whisky a Day" article, I started the project on January 1st with Whisky #1 – the Glenmorangie Nectar D'Or – as it had been my favourite go-to whisky for quite some time.
I had earmarked it to be my Whisky #365 on December 31st to see a) if it's still my favourite, and b) how my appreciation and tasting of whisky might have changed through the course of the year. This will be the only whisky I have officially tasted twice over the course of 2014. There may have been a few I unofficially sampled on multiple occasions…just to be sure I got my tasting notes correct, all in the name of scientific research!
Below I have recorded my notes from this tasting of the Glenmorangie Nectar D'Or on December 31st, 2014, but also listed in italics below my observations from my tasting of it as Whisky #1 back on January 1st, 2014. Ok, here goes!
Colour: Rich caramel.
Whisky #1 notes: Caramel. Damn – am I going to be able to come up with 364 other ways to describe the various golden shades of whisky?!
Nose: Burnt caramel, slightly nutty. Sweet vanilla and soft oak notes. A slight nose prickle.
Whisky #1 notes: Fragrant and slightly sweet. Makes you want to dive in and just taste it rather than sniff it all day.
Palate: Smooth entry, rich oily mouthfeel. Butter, honey and vanilla with a soft hint of black pepper.
Whisky #1 notes: Smooth when it first hits the tongue, slowly warming as it fills the mouth. Sweet flavours with some spices, hard to pinpoint exactly what they are. Tastes bloody good though.
Finish: Medium length, sweet honey and spice.
Whisky #1 notes: Lingering sweetness and a warm tingle at the front of the tongue. Leaves a distinct desire to have some more!
Comments: So is it still my favourite? Have my tastes changed? It's a cracking whisky, I love it. My mate Brett – whom avid readers will know has been one of my trusted whisky tasting lieutenants throughout the year – simply commented that "it never fails, it's the go-to whisky". Hard to disagree with you there mate, the Nectar D'Or really is a top drop and amazing value too. After drinking 363 other whiskies this year, I can confidently say that the Glenmorangie Nectar D'Or will forever remain a staple in my whisky collection at home.
It's hard to say that another whisky is my new favourite, as it's difficult for a new whisky to take that mantle if I've only tried it once through the year. However, I am very pleased that I'm still enjoying the Nectar D'Or so much after having had so many other amazing drams throughout the year – I was a little worried I may have fallen out of love with it.
You'll have to stay tuned for my wrap-up article early in January collating all the highlights of the Whisky a Day journey to see my ratings of best blend, best value dram, most surprising whisky…and many more. Happy new year to you all, many thanks for your support following Whisky a Day in 2014, it's been a blast. I will be continuing in 2015 with more whisky tastings and also starting to explore whisky and food pairing, whisky in cooking and other exciting adventures. In the meantime, grab yourself a great dram and have a happy new year!
Slainte,
Todd (aka Whisky a Day)