by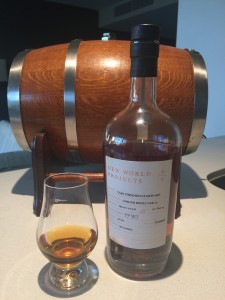 New World Projects Ginger Beer Cask Finished Starward Single Malt (Cask #2). Essendon, Victoria, Australia. ABV: 47.70%. Tasted at home, $120 (bottle).
Colour: Luminescent amber.
Nose: Candied ginger, it really hits you straight away. Fresh pineapple and citrus notes, mainly limes.
Palate: Prickles on the front half of the palate. Lots of ginger (obviously), but also an intense combination of mixed spices, mainly cloves and cinnamon.
Finish: Sharp and tangy finish, a little sweet too. Reminds me of being a kid and you've just had too big a spoonful of lemon sherbet Wizz Fizz. Delightful.
Comments: This is a very unique proposition, unlike any other whisky I've tried before. It's essentially a standard Starward Single Malt that has been extra matured for 3 months in a cask that contained barrel fermented alcoholic ginger beer…which the guys from New World Whisky Distillery using their trademark malted barley, fresh ginger and a blend of aromatics. It's so complex and interesting that you almost could be forgiven thinking it wasn't a single malt. I like it, but it's not the kind of whisky that you would have more than a dram or two in a sitting. In any case, its supply is very limited so I want to stretch this bottle out as long as I can. A surprisingly different dram that's for sure.