by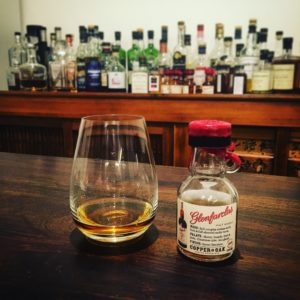 Glenfarclas 30 Year Old Single Malt. Speyside, Scotland. ABV: 43%. Tasted at home, $70 (100mL bottle split from Copper & Oak in Perth).
Thought I'd review the Glenfarclas 30 in honour of my old mate Peakey who is soon to be married. Given we've known each other for almost 30 years and he's known to say "thirty" more like "firrrrty", I thought it appropriate to bust out the Glenfarclas 30 Year Old. Here's to you Peakey, wishing you & Roxy a happy future together mate!
Colour: Deep copper.
Nose: A smooth, sweet nose – dried fruits and toffee. Honey on hot buttered toast. Sweet lemon sherbet. Every time I take a new sniff it reveals different flavours.  Amazing.
Palate: A smooth entry; an oily mouthfeel with flavours that slowly build. The initial mouthful surprises – maybe a burst of blueberries and syrupy charcoal. That might sound a little weird, but it's actually great. Subsequent mouthfuls have a velvety sweetness with a bold undertone, like some bush honey.
Finish: Buttery toffee, grassy cheesy notes – think honey smothered on grilled haloumi cheese with some fresh herbs. It's a medium to long finish, such a gradual fade of flavours.
Comments: I really wanted to review this whisky very tongue in cheek, making subtle references to all the crazy "fings" all our mates have gotten up to with Peakey over the past "firrrrty" years or so. But when it came down to it, this is a fantastic whisky that makes you feel relaxed and comfortable, one that could be enjoyed in any situation – a damn fine companion to have by your side for a great night full of good times.
Much like our mate Peakey really.