by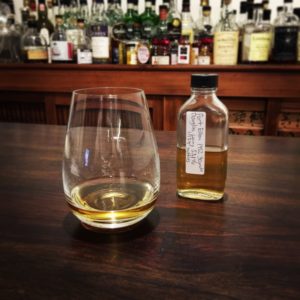 Port Ellen 30 Year Old 1982 Single Malt – Old and Rare Platinum (Douglas Laing). ABV: 53.1%. Tasted at home, $145 (100mL bottle split).
We have come to the end of Peat Week here at Whisky a Day, so it's only fitting we pull out the big guns. A 30 year old Port Ellen single malt should do the trick!
Colour: Rich gold.
Nose: A satisfying nose prickle; rich honey and smoke, quite earthy…think dusty bookshelves.
Palate: Smokey, yet a juicy fruitiness. Blueberries and prosciutto – salty meaty notes with a hint of sweetness.
Finish: Finish goes on for days…smokey, salty, tangy citrus, plenty of heat, and some spicy tomato soup flavours in the fade.
Comments: Some readers may be unfamiliar with Port Ellen, that's likely to be due to the fact it is a defunct distillery from Islay which was shut down in 1983. They still do malting on site to supply other Islay distilleries, however the stills have long since ceased production. This Douglas Laing bottling of Port Ellen was from an outturn of only 139 bottles and was distilled in 1982 (only a year before the distillery was shut down).
With the existing Port Ellen stocks owned by Diageo, there are very limited releases, making Port Ellen both highly sought after and also pricey. This was a $1000 bottle of booze, so with some of my fellow whisky nutters from Dram Full Perth, we decided to splurge and grab a bottle of this and split it 7 ways. I've held on to this one for quite a while but decided to crack it open tonight.  A fitting climax to Peat Week, and a highly enjoyable dram.
And yes, I drank it all in one sitting…