by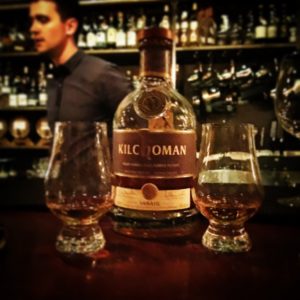 Kilchoman Sanaig Single Malt. Islay, Scotland. ABV: 46%. Tasted at Cobbler (West End, Brisbane).
Colour: Golden toffee. Though by candlelight and after just having 6 other whiskies, everything looks some kind of shade of amber.
Nose: Sweet, meaty and salty. Maple syrup on pancakes with bacon. My good mate Pete picked up some cured pork and bacon. My Dad described it as like when you first open a medicine cabinet.
Palate: Smoothish entry, then the flavours quickly build along with a gentle warmth. This is starting to sound like I'm writing a Mills & Boon novel! Gentle smoke that builds, a hint of sweetness but some tangy and salty flavours dominate. Think jamon and dried orange.
Finish: Dried raspberries and salted caramel. The front of the tongue tingles as it fades.
Comments: This dram would go amazingly well with some dark chocolate. Matured in a mix of bourbon and sherry casks, this is a Kilchoman I've wanted to try for a while.
It's very drinkable and quite enjoyable towards the end of the night, but lacks a little bit of depth and punch for a true end of the night kind of whisky. It feels like it's torn between a couple of styles without really mastering either. Think I'll stick to their expressions either matured completely in ex bourbon casks or completely in sherry casks.