by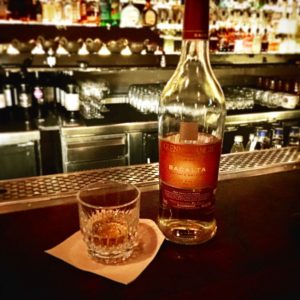 Glenmorangie Bacalta Private Edition Single Malt. Highlands, Scotland. ABV: 46%. Tasted at Button Bar, $24.
When you're walking home on a cold and windy winter night and you pass a bar you've been meaning to check out for a while…better drop in a for a cheeky whisky to warm up! Button Bar are more known for their rum and gin, but I was pleased to see the Glenmorangie Bacalta behind the bar, a drop which I'd also been wanting to try for quite some time.
Colour: Candlelit gold.
Nose: Quite light. Wood chips with some caramelised savoury notes, think cured meats charred with a blow torch. All very light though.
Palate: Oakier than most Glenmorangies. Front palate, corn chips, caramelised onions on a BBQ, some faint raw sugar notes. Maybe I'm just hungry?!
Finish: Malty, dry yet soft. Salty warm tingle on the front of the tongue. Woody notes to finish. Medium length.
Comments: It's a little different to your typical house style Glenmorangie; the lighter and slightly sweeter fruit driven style we've come to associate with many of their malts. This one has sweetness, but with balanced with more savoury tones. Definitely a drier mouthfeel and the malt flavours are more pronounced.
Overall, this was quite a hyped whisky amongst whisky fans around the world (as are many of the Glenmorangie Private Edition releases, and with good reason). Long time readers will know that Glenmorangie was my first favourite distillery, but for me this one didn't quite hit the mark or scale the heights of some of their other recent Private Edition releases like the Glenmorangie Milsean.