by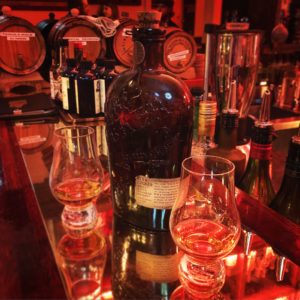 Bib & Tucker 6 Year Old Small Batch Bourbon Whiskey (Batch No. 001, bottle #18,144). ABV: 46%. California, United States. Tasted at the White Oaks Saloon (Melbourne), $18.
Colour: Brassy glow.
Nose: Butter and burnt caramel. My trusted whisk(e)y tasting lieutenant Dave thought it was super sweet initially, then had some stewed cherries. The vanilla notes really came to the fore a bit later.
Palate: Creamy and grassy notes; also a few flavours like you've just chewed on a couple of fennel seeds.
Finish: Fresh and crisp, medium length. Mint leaves and soft white pepper. A sweet woody tang to finish.
Comments: Delicious. The nose and finish definitely have more going on than the palate, but it was a decidedly easy dram to drink on a Sunday night as we wound down from a big weekend.
It's a little different to your traditional bourbons (both in production and flavour profile), being double distilled through a column still initially and then through a traditional copper pot still. It may appeal to fans of Scottish, Japanese or Australian whiskies who are wanting to dip their tongue in the bourbon pond.