by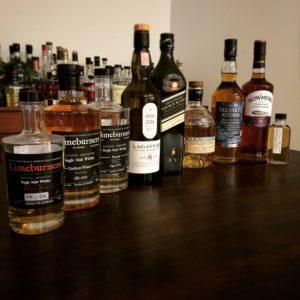 It's Peat Week here at Whisky a Day! 7 days of peated whisky.
It's been a rainy Sunday here in Sydney, one of those long lazy afternoons that you just don't want to finish. Not because it's been a particularly spectacular day, but mainly because it's been a relaxing day that is soon to be cut short by the notion of heading back to work again tomorrow morning!
So with the last vestiges of cool weather lingering, I thought it the perfect excuse to have a peated dram. Which led me to think – bugger it, why not have a whole week of peated whisky? Exploring a few different styles of peated whisky?
To a lot of people, peated whisky equates to whisky from the island of Islay in Scotland. While there are many fine examples of peated whisky from Islay, I thought it would be interesting to also explore a few peated whiskies produced in other regions around Scotland as well as a little further afield.
So here's this week's lineup…
Some Australian whisky to start as we explore the peated range from Limeburners. Closely followed by the recently released (and much anticipated) Lagavulin 8 Year Old to celebrate the 200th anniversary of the Lagavulin distillery. The Johnnie Walker Double Black then gets a call-up, highlighting that it's not just single malts that get all the peat. Moving across to Speyside where we'll dabble in some Glenrothes, followed by zipping back west to the Isle of Skye to sample the Talisker Storm. Then it's back to the home of peaty whisky – Islay – for the Bowmore 18 Year Old, before finishing off the week in style with a very rare Port Ellen 30 Year Old bottled by Douglas Laing.
So strap in your tastebuds, slip into those comfy slippers and turn off the fire alarms…it could get a little smokey in here this week.