by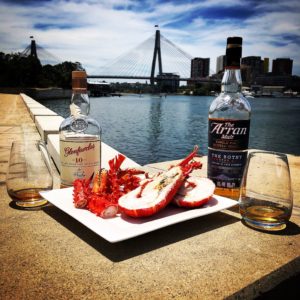 Whisky and Seafood – Whisky #513 & Whisky #514…Glenfarclas, Arran, King Crab and Lobster.
Whisky and seafood, two of my great passions. I've enjoyed many whiskies, but I've not enjoyed reviewing too many more than today's lineup.
Today's seafood – fresh WA Rock Lobster and king crab legs from the Sydney Fish Market. The king crab legs are so tender, juicy and salty; while the rock lobster is firmer with very creamy flesh but a more subtle shellfish flavour.
Full-flavoured seafood deserves full-flavoured whisky. So let's dive in to a couple of contrasting drams…a sherry influenced Glenfarclas and a creamy, tropical fruit malt from Arran.
Whisky #513: Glenfarclas 10 Year Old Single Malt Bottled at 50% Exclusively for The Whisky Club. ABV: 50.0%. $130 (bottle).
Colour: Deep caramel.
Nose: An initial nose prickle when you first pour it in the glass. After it settles there's dried raisins, strawberry marshmallows,
Palate: Almost a bit tannic, like some red wine finished whiskies. Golden syrup and burnt butter with caramel.
Finish: Dry, spicy and a slightly briny aftertaste.
Seafood combination: The Glenfarclas is better with the king crab, which softens the tannins and accentuates the sweetness of the whisky. Brings out some fresh raspberry notes too.
Whisky #514: Arran The Bothy Quarter Cask Single Malt (Batch 2). Isle of Arran, Scotland. ABV: 55.2%. $135 (bottle).
Colour: Bright orange gold.
Nose: Like sticking a pine needle up your nose – it's fresh and green, tickles a little and makes you pull away initially before heading back for more. Fresh lemon, kafir lime leaves, BBQ'd pineapple slices, and top-notch vanilla ice cream. None of that generic reduced fat, bleached white bulshit you buy from a cheap supermarket – this is the full cream, full-flavoured stuff where you can see the real vanilla beans swirled through the real deal cream coloured frosty goodness.
Palate: Loads of caramelised pineapple, honey, vanilla, and soft fresh oak.
Finish: Creamy, oh so creamy. Zesty lemon sherbet. Fresh prawns on freshly baked white bread you've picked up from the bakery that morning. Lemon cheesecake with a crumbled ginger nut cookie pastry. Sweet ginger spiciness.
Seafood combination: With the lobster, the lemon sherbet and fresh oak shine through. The king crab brings brown sugar, buttery croissants and juicy pineapple to the fore.
Overall comments: As a whisky, the Arran The Bothy Quarter Cask leaves the Glenfarclas in the shade. Combined with seafood though and they both allow some flavours to be accentuated and others to emerge. But overall, the Arran The Bothy Quarter Cask is an amazing dram that marries stunningly with fresh seafood like king crab or lobster. Outstanding stuff.