by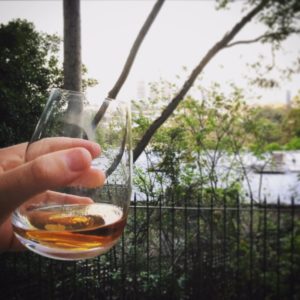 SMWS 73.83 Anzac Biscuits & Cricket Bats. 15 year old single cask single malt from Aultmore Distillery. Speyside, Scotland. ABV: 56.9%.
Chosen by the Australian Cellarmaster of the Scotch Malt Whisky Society (SMWS), Andrew Derbidge, this 15 year old single cask single malt was selected to commemorate the 15th anniversary of the SMWS Australian branch.
Colour: A glorious molten toffee.
Nose: Chocolate mouse, raspberry coulis, hardwood…imagine walking into a furniture store with lots of lacquered timber furniture.
Palate: Spicy; both in terms of a peppery heat and almost fragrant garam masala type flavours. Balanced out nicely with some rich, creamy caramel-like flavours. It's almost like someone has cracked some black pepper over your creme brûlée, but to your surprise it actually works!
Finish: Long…with a drying, powdery mouthfeel. Tobacco, black pepper, red wine and tart berries.
Comments: Matured in a sherry cask, this is certainly a unique whisky, like all the SMWS whiskies to be fair. Much like that old saying…it's unique, just like all the others. A whisky of contrasts, it see-saws across your tastebuds but seems to always come to rest and find balance.