by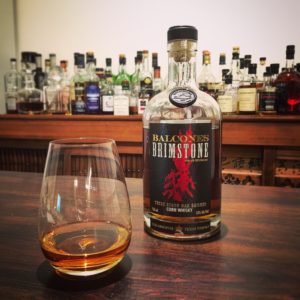 Balcones Brimstone Texas Scrub Oak Smoked Corn Whiskey (batch BRM14.4). Waco, Texas, United States. ABV: 53%. Tasted at home, $165 (bottle).
A Texas whiskey review in honour of my Texan friend Casey who once worked in Sydney at my local, The Point Hotel. Your Pyrmont Point family miss you Slats, come back for a visit already!
Colour: A deep flame.
Nose: Fresh sweet smoke, like you've placed some wet green branches on a campfire. With time in the glass there's hints of molasses, leather and char-grilled meat too.
Palate: Bam! The smokiness really kicks you in the teeth. After the initial hit, there's a taste of black jelly beans, treacle and slow cooked pork ribs. Maybe I feel like some ribs tonight…
Finish: The flavours hang around longer than that weird guy at a music festival who crashes your campsite on the first night and is still wanting to party with you two days later. Stop dancing around the campfire buddy, it's time to go home! There's a gentle heat that tingles on the tongue and front half of the mouth, like you've eaten a fresh yet somewhat sweet chilli. Some subtle smoked trout and salted caramel flavours in the fade.
Comments: This was another one of the whiskies from my "Rebuilding a Whisky Collection – The $1000 Challenge" a little while back. It is incredibly smokey, but not peaty like many Scottish Islay malts for example. In fact it's a very unusual wood smoked whiskey made using sun-baked Texas scrub oak. I chose it as it promised to be a unique drop whilst also ticking the American and smokey whisk(e)y boxes for my challenge.
I loved the Balcones True Blue 100 Proof Corn Whisky, however their Texas Scrub Oak Smoked Corn Whiskey couldn't quite live up to those lofty expectations. There's some savoury and sweet subtleties on show here, but these are overshadowed by the smokiness. Time in the glass reveals some more aromas and allows the palate to get accustomed to the whiskey, but if the smokiness was able to be dialled back a notch or two this would be a really good drop. A very unique and interesting proposition nonetheless.