by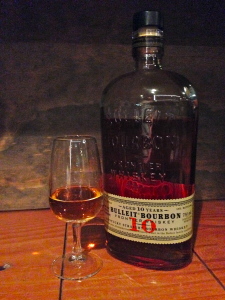 Bulleit 10 Year Old Bourbon Whiskey. Kentucky, United States. ABV: 45.60%. Tasted at The Flour Factory.
Colour: Light toffee.
Nose: Lots of rye, hessian and really dry hay. Basically the smell of the back of a Holden ute after a B&S ball (minus the empty rum cans).
Palate: Peppery, hay-like, dry. Almost as dry as my drinking companion Frank the Flourbag, resident boozehound at the Flour Factory. You'll find him always sat in a corner, propping himself up and sneering out of the side of his sack as he enviously looks at the Hoff strutting around the bar holding court.
Finish: Very dry, medium length, medium heat on the front of the tongue in particular.
Comments: Not a massive bourbon fan (there are notable exceptions, like the Hudson Baby Bourbon), and this one again is ok but a little one dimensional for me.