by

Scotch Malt Whisky Society Autumn Tasting Extravaganza. Parmelia Hilton, $70.
I joined the Scotch Malt Whisky Society (SMWS) at the start of the year for a few main reasons. Firstly, as another way to expand my whisky horizons and give me exposure to a range of unusual whiskies that I hadn't heard much about (much less seen available to buy anywhere). A good way to really start to rack up the number of different malts that I knew I'd need to successfully complete the Whisky a Day challenge.
Secondly, I was intrigued by this mysterious "society" – would they have a secret handshake? Would it be a stuffy old man's club where everyone stands around twirling their moustache and wearing a tweed jacket? As it turns out, no – they're just a bunch of friendly folks who are really into their whisky. A huge range of ages and mix of guys and girls, everyone is really down to earth and passionate about tasting and talking about whisky.
Anyway, a crash course in the SMWS. They do their own bottlings, whereby they go to a distillery and choose a single cask from which they produce a limited run (e.g. ~200 bottles) of a unique malt. The whisky is given a numerical code, denoting the distillery and the individual cask. For example, whisky "96.7" below identifies it as being from distillery number 96, and it is the 7th single cask bottling the SMWS has released from this distillery. They've also got some quirky tasting notes on the label to describe the flavours and aromas that the SMWS tasting panel has come up with.
So onto the tastings. The standout favourite of the day for me was "121.65 – A Well-Oiled Baseball Glove". As with my experience at Whisky Live 2014, I didn't want to spend the whole evening furiously making tasting notes. Tasting 10 whiskies in all, I kept the notes to a minimum and simply enjoyed the experience. If you are intrigued and want to know more about a particular whisky you'll just have to join the SMWS and try it for yourself!
96.7 – For a Sweet Tooth. 7 year old SMWS bottling from Glendronach Distillery. Speyside, Scotland. ABV: 59.3%.
Very pale colour.  Chewy toffee on the nose. Not as sweet as I was expecting given the description on the label. Warmth builds & slowly fills the mouth.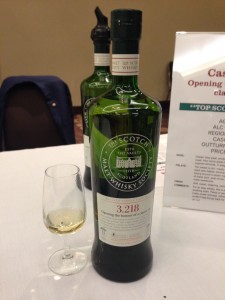 3.218 – Opening the Bonnet of a Classic Car. 13 year old SMWS bottling from Bowmore Distillery. Islay, Scotland. ABV: 55.8%.
Apple juice in colour. The nose is smokey, but subtler than other Islays. Palate is meaty with hint of sweetness, like a seared steak.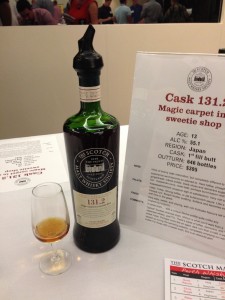 131.2 – Magic Carpet in a Sweetie Shop. 
13 year old SMWS bottling from Hanyu Distillery. Chichibu, Japan. ABV: 55.1%.
Looks more like a port, beautiful colour. Initial scents reminded me of firecrackers, turns out it has a few hints of an Islay dram. Lots of spice, hint of smoke, quite full bodied, sweet notes abound. Medium length.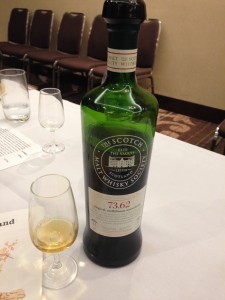 73.62 – Magical, Mellifluous Marvelosity.
24 year old SMWS bottling from Aultmore Distillery. Speyside, Scotland. ABV: 57.8%.
Looks like a botrytis semillon in colour, the legs on the glass also give away the relatively high ABV. Heat & peat on the palate, warmth lingers.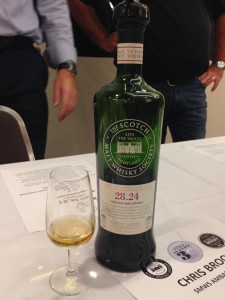 28.24 – Curiouser and Curiouser.
23 year old SMWS bottling from Tullibardine Distillery. Highlands, Scotland. ABV: 52.2%.
Pale gold. Musty. Like an old book. Bourbon like flavours, gentle. Smooth. Medium finish.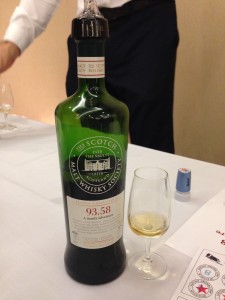 93.58 – A Manly Adventure.
14 year old SMWS bottling from Glen Scotia Distillery. Campbeltown, Scotland. ABV: 60.4%.
Crisp clear straw colour. The nose gives pork spit roast on an open fire. Band aids. Meaty, very chewy. Kind of whisky to put hairs on your chest. Smoke builds, lips tingle long after.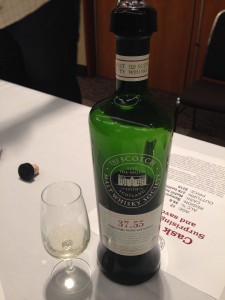 37.55 – Surprising Smoky and Savoury.
12 year old SMWS bottling from Cragganmore Distillery. Speyside, Scotland. ABV: 56.6%.
Really pale straw. Surprisingly smokey for a Speyside – only then did I realise the SMWS name was "surprisingly smokey".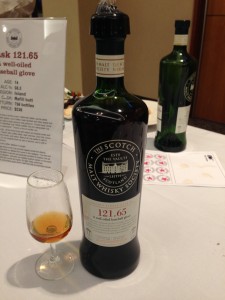 121.65 – A Well-Oiled Baseball Glove.
14 year old SMWS bottling from Isle of Arran Distillery. Isle of Arran, Scotland. ABV: 58.3%.
Deep copper. Wow – like it. Muscat notes, it is leathery – the title of this one really is on the money. Like a salted caramel dessert – salty but a sweet aftertaste. Delicious – definitely my favourite dram of the day.
53.198 – Wasabi on a California Roll.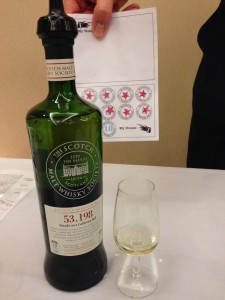 18 year old SMWS bottling from Caol Ila Distillery. Islay, Scotland. ABV: 59.1%.
Like opening a tin of smoked mussels or anchovies. Nice. Smokey, but almost a bit of a metallic aftertaste.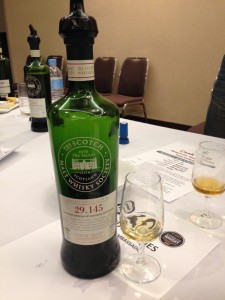 29.145 – Innocent Embrace of Sweetness and Smoke.
22 year old SMWS bottling from Laphroaig Distillery. Islay, Scotland. ABV: 45.3%.
Straw colour. One of the lightest Islays I've nosed in terms of smoke. Sweet almost cool smokey sensation on the tongue. Quite unusual, but nice.