by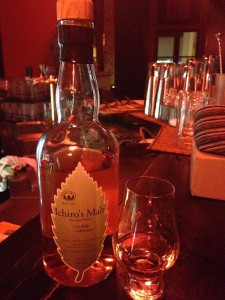 Ichiro's Malt, Double Distilleries Vatted Malt (Hanyu and Chichibu distilleries). Japan. ABV: 46%. Tasted at Canton Lounge.
Colour: Yellow gold.
Nose: Alcohol tingle up the nostrils, grass seed notes.
Palate: Peppery hay-like flavours. Quite a dry mouthfeel.
Finish: Spicy; quite a bit more heat than I expected from a drop at 46%.
Comments: A bit more bite than I expected. This is an interesting drop, it's a combination of whisky from both Hanyu and Chichibu distilleries in Japan, vatted and bottled at Chichibu in 2010. Interesting, but not outstanding.