by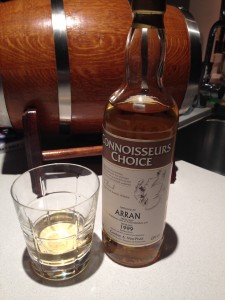 Gordon & Macphail Connoisseurs Choice Arran 1999 Single Malt. Isle of Arran, Scotland. ABV: 43.00%. Tasted at home.
Colour: Very light straw.
Nose: Quite light; some gentle oak and toffee.
Palate: Absolutely delicious. Soft toasted woody notes, with just the right balance of sweetness.
Finish: Warmth gradually builds around the mouth, while the final sensation is your lips tingling. Toasted toffee flavours have medium length, while the warmth is much longer.
Comments: Wow. I'm really enjoying some of the Arran malts this year. It's a distillery I had never tried before the Whisky a Day caper led me to give it a go. I purchased this bottle online having never tried it before – my theory was that I've really enjoyed all the Arran malts I've had so far, why not try an Arran released by an independent bottler? I can safely say this Gordon & Macphail release is amazing, I will definitely be buying another bottle of it when this one is done!