by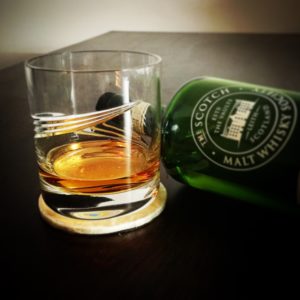 SMWS 35.165 Variety, the Spice of Life. 13 year old single cask single malt from Glen Moray Distillery. Speyside, Scotland. ABV: 52.9%.
Colour: Deep toffee.
Nose: Almost a bourbonish hint. Some sticky BBQ sauce, floral rose water, freshly hewn hardwood timber sawdust.
Palate: Such a soft, elegant mouthfeel. Oily, mouth-coating and full flavoured. Toffee apples, burnt butter, brown sugar, golden syrup, hot buttered toast…
Finish: Almost a touch of spiced rum in the finish, light peppery fade as the caramel flavours subside. A long, satisfying finish.
Comments: This drop has a bit of everything, it really is the spice of life. I've not previously had anything outstanding from Glen Moray, the drams I've had have always been a little too light. This drop however…I could sip this one all night. Amazing stuff.