by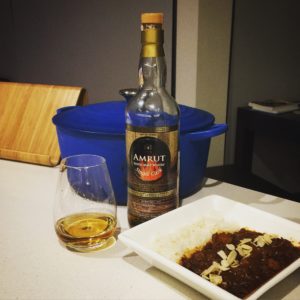 Whisky and Curry: Whisky #455 – Amrut Single Malt Single Cask Bottled for Dram Full & Beef Vindaloo. Bangalore, India. ABV: 62.8%. Tasted at home, $140 (bottle).
India is one of the world's largest whisky consumer markets. They bloody love the stuff. As we all know, the Indians are also quite fond of a curry. But do they drink their whisky with a curry? Wouldn't the intense curry flavours, aromas and spiciness overpower any whisky? I've never tried whisky with curry before, but seeing as I cooked up a beef vindaloo curry and had a bottle of Indian whisky, Amrut Single Malt Single Cask Bottled for Dram Full) I thought I should give it a crack!
Colour: Brassy. Well, I guess turmeric would be more appropriate…
Nose: A strong nose prickle, hardly surprising for a cask strength whisky. Lots of spices, fresh lemon tarts, an old timber tea chest. With a bowl of hot curry sitting beside me it's hard to get much more!
Palate: Citrus, butter and chilli. Maybe it's the lingering heat of the curry? Taking a sip of whisky after a mouthful of curry seems to accentuate some brown sugar and raisin notes, though with plenty of earthy spice.
Finish: Having some whisky after the curry seems to bring back some of the heat from the curry. Topping up the glass after the curry is finished (purely for research purposes) reveals some sweeter meaty flavours – think char grilled steak – along with some dried candied orange.
Comments: I've enjoyed this Amrut immensely on its own, but haven't had it with food before. My good mate Mahesh informs me that Indians have their whisky always pre or post food. I thought that curry might overpower the whisky, and in this instance it proved to be the case. Vindaloo is a spicy, full flavoured curry that really gives your tastebuds a smack. Perhaps a milder curry might pair well with some whiskies? Then again, maybe whisky and curry don't really mix and we should stick to having whisky pre or post curry…after all, 1 billion people can't be wrong.