by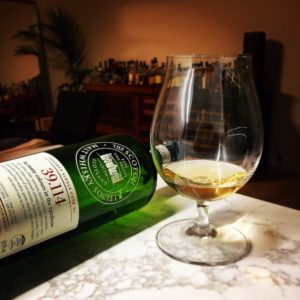 SMWS 39.114 So Many Colours in the Rainbow. 11 year old single cask single malt from Linkwood Distillery. Speyside, Scotland. ABV: 60.0%. Tasted at home, $184 (bottle).
What a week…this is the 7th and final Scotch Malt Whisky Society (SMWS) whisky of the week. What a way to celebrate reaching the milestone of 500 whiskies here on Whisky a Day…7 days, 7 SMWS whiskies!
Colour: Pinkish gold.
Nose: Freshly peeled mandarine skins and blueberry muffins so fresh out of the oven they're still warm.
Palate: Tangy raspberries, a fizzy sherbet sensation as the whisky dances around your mouth. Salty and slightly sour blueberry notes. An intriguing balance of sweet, salty and sour.
Finish: A rich, warm honey and lemon tea tingle all around the mouth. An exceptionally long and satisfying finish; some saltiness with oak and soft fruit jubes in the fade.
Comments: A whisky of contrasts. An intriguing nose. Flavours and aromas that make your mind explode with food analogies. A finish that goes on for days. All the things that epitomise a typical SMWS whisky and make them so unique.
I've been a very happy member of the SMWS for a few years now – I'm not a brand ambassador for them or get paid to spruik their wares. I'm simply a huge fan of their whiskies and ethos that I am happy to tell the world about it. Stunning whisky that is unique and always surprising.
If you like the sound of this one, be sure to check out the other SMWS single cask single malt from Linkwood Distillery we looked at earlier in the week – SMWS 39.118 Sweet Memories.