by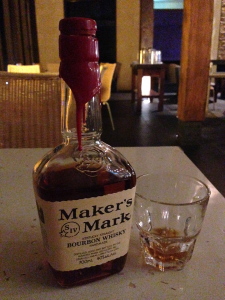 Makers Mark Bourbon Whiskey. Kentucky, United States. ABV: 40.0%. Tasted at Pullman Bunker Bay Resort, $10.
Colour: Dark cane.
Nose: Aniseed notes; I'm not a huge fan. Dad got scents of damp hessian bags that have been sitting in a shed for too long. The old man is more of a wine drinker usually, but you don't have to be a whisky fan to describe the nose of a dram – the olfactory sense is one of the most powerful in terms of triggering a (sometimes obscure) memory.
Palate: Spice and pepper.
Finish: Sawdust, very dry pepper and corn flavours. Medium length.
Comments: Meh, very underwhelming. After having tried some rather nice Limeburners, this one certainly misses the…ahem…mark.