by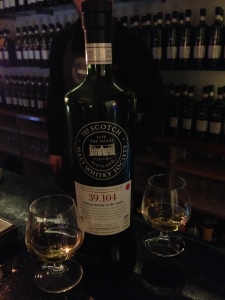 Well, I'd like to be able to give some witty and somewhat insightful remarks about the two whiskies I tasted at the Scotch Malt Whisky Society (SMWS) tasting rooms in Edinburgh. However, for those who have been following my Whisky a Day journey since the start of the year, it's fair to say that my wittiness is debatable and my insights somewhat fuzzy after a few drinks and becoming, well, fuzzy. There's that deep insight yet again…
And so as my last night in Scotland drew to a close, I made my way to the SMWS Tasting Rooms in Edinburgh, a venue that had been high on my list of whisky-related places to visit in Scotland.
As a member of the SMWS in Australia, I have been to quite a number of society tasting events and competed in the SMWS Australian Scotch Whisky Tasting Championship, though I was curious about the tasting rooms of this self-described curious society. Would it be full of stuffy old men sitting quietly in Chesterfields reading a hunting magazine and shushing you for making too much noise? As it turns out…absolutely not.
I had been shown around Edinburgh for the past day and a half by my good friend Andrea…and by shown around I mean we'd been to just about every pub and bar in town. So at the end of the night I bet him that I could take him to a bar where he'd never been before, so we found ourselves at the SMWS tasting rooms in an amazing old terrace building on Queen Street. Sweeping up the grand circular staircase we arrived at the bar to be confronted by a couple hundred green bottles of seemingly innumerate SMWS expressions.
Whisky #329: "39.104 – Getting Steamy in the Sauna". 14 year old single cask SMWS bottling from Linkwood Distillery. Speyside, Scotland. ABV: 58.5%. Tasted at the SMWS Rooms in Edinburgh.
When Andrea and I sat down to sip on a couple of wee drams, my phone packed it in and I lost my tasting notes for these. All I can say is that I'm glad I wasn't "getting steamy in the sauna" with Andrea. Top bloke 'Dre, but not my first choice for sharing a sauna with!! I selected this whisky as I'd tried the Linkwood 12 Year Old Single Malt early in the year and really enjoyed it. This bottling was from a refill ex-bourbon hogshead. By this stage of the night I don't recall if it was reminiscent of "a steamy aroma reminiscent of saunas meshed with sunny orchards and freshly cut daffodils" as the SMWS tasting notes described, but I do recall it being quite a tasty drop and a nice light(ish) dram to start on.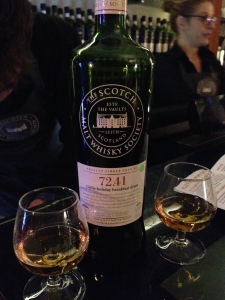 Whisky #330: "72.41 – Girlie Holiday Breakfast Dram". 9 year old single cask SMWS bottling from Miltonduff Distillery. Speyside, Scotland. ABV: 59.8%. Tasted at the SMWS Rooms in Edinburgh.
Miltonduff Distillery is part of the Chivas Brothers estate, producing whisky that forms the core ingredient of the Ballantine's blended whisky.  Miltonduff was a mystery to me, perhaps unsurprising as they don't produce much single malt under their own name as they are essentially a workhorse distillery for Chivas. The SMWS tasting notes suggest the nose as being quite feminine – "pot-pourri, tanning lotion, cocoa- butter, orange-scented candles, honey-nut cornflakes, pancakes and bucks fizz – perhaps a girlie holiday breakfast dram?"
I'm not so sure about whisky for breakfast, though given I was on a whisky holiday it seemed to be an appropriate choice to finish on.
Overall comments: The SMWS members in Edinburgh are very fortunate to have such a great bar as this to enjoy the society bottlings, I only hope that the Australian branch of the society is able to one day open an Australian tasting room for our every growing and enthusiastic antipodean membership! Fantastic as well to be able to share a dram with Andrea and thank him for being such a great host of this fine city, Edinburgh I will be back for sure.