by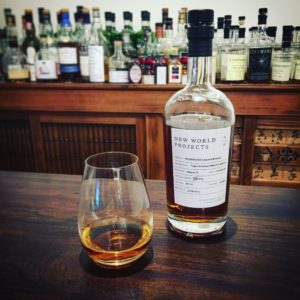 New World Projects Starward Limited Release Pedro Ximinez Sherry Cask #3 (Batch No. 160920-A). Victoria, Australia. ABV: 48.0%. Tasted at home, $120 (bottle).
Colour: Molten copper. Stunning.
Nose: Like opening a roll of blackcurrant pastilles. Toffee and some soft fresh pine timber notes too.
Palate: Crème caramel with the barest hint of smoke. Definitely not peaty. Fresh, tart raspberries and crème brûlée.  It's creamy and caramelly. Lots of flavour, a dryish mouthfeel but with some creaminess too. Like a sponge cake with cream.
Finish: Butter Menthols, chocolate and cocoa; some coffee notes too. It's basically a tiramisu.
Comments: This is like a liquid dessert, yet is not overly sweet. It's refreshing to try a whisky matured in an ex Sherry cask that doesn't taste like the stereotypical Christmas cake in a glass. Another outstanding whisky from the folks at New World Whisky Distillery, makers of Starward. Highly recommended.