by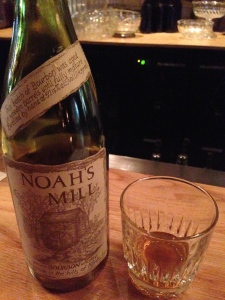 Noah's Mill Small Batch Bourbon Whiskey. Kentucky, United States. Tasted at Pleased to Meet You, $22.
Colour: Dark golden toffee.
Nose: Caramelised sweet corn, hints of oak and vanilla. Prickles the nostrils.
Palate: Intense fennel and cloves, aniseed flavours. Mouth warming, yet quite a dry mouthfeel.
Finish: Quite long. Warmth builds at the roof of the mouth.
Comments: Dryer than my Tinder date's personality.