by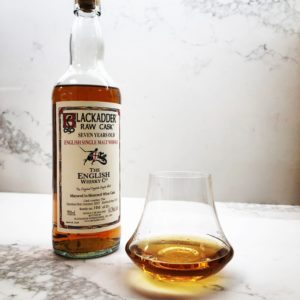 Blackadder Raw Cask Seven Year Old English Single Malt. Norfolk, England. ABV: 63.2%. Tasted at home, $202 (bottle).
Colour: Shiny hardwood timber floorboards.
Nose: Butter and caramelised brown sugar.
Palate: A powerful burst of flavour that shoots straight down the middle of your tongue. Mandarine peel, briny lemon notes, spiced mulled wine, sweet paprika.
Finish: Medium length, which is a touch surprising as for such a full-on whisky. Front palate gets most of the excitement. White pepper and dry oak.
Comments: Matured in a single Moscatel dessert wine cask that yielded just 251 bottles, decanted straight from the cask. The Blackadder Raw Cask expressions are pure to the no colouring, non-chill filtered approach…so much so that they don't even filter out some of the sediment from the barrel, which you can see in the bottom of the bottle.
This is raw, this is pure; this will put hairs on your chest. It may even rip the hairs out of your nostrils and put them on your chest just for laughs. Certainly not refined and it's not attempting to be – this is a whisky which will divide opinion, much like brutalist architecture. A new genre perhaps – a brutalist whisky.