by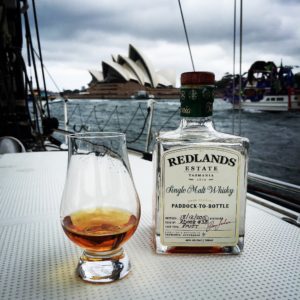 Redlands Estate Paddock to Bottle Single Malt. Tasmania, Australia. ABV: 46%. Tasted on Sydney Harbour on Australia Day! $155 (bottle).
Happy Australia Day to all! It's only appropriate today we take a look at an Australian whisky, whilst sailing past a few famous Australian landmarks. Tasmania (that little island off the southern coast of the Australian mainland for you overseas readers) is now home to more whisky distilleries than Islay in Scotland. Really! Sure, they're much younger and at the more boutique craft end of the whisky spectrum, but geez they're producing some top notch whisky that has picked up quite a few international awards. Today, we'll delve into some Redlands Estate Paddock to Bottle Single Malt.
Colour: I love a sunburnt country…
Nose: Raspberries and lemon fondant. Then it's like walking into a cellar at a winery…all earthy and oaky. Freshly snapped lantana branches. 'Straya. My good friend Emma picked up bread & butter pudding with raisins.
Palate: So smooth. Strawberries and cream, blue cheese and blueberries. Ems had a hint of banana and a little cherry. My very good mate Rossco got some chilli flavour without the heat; raspberries, rosemary and copper coins.
Finish: Some dry oak and sultanas, creme brûlée too.
Comments: Matured in ex Tasmanian Pinot Noir casks. Stunning colour. So multifaceted, especially the nose. Amazing stuff from Redlands, hats off to head distiller Dean Jackson. Happy 'Straya Day folks, drink some Aussie whisky – there's some good drops out there.