by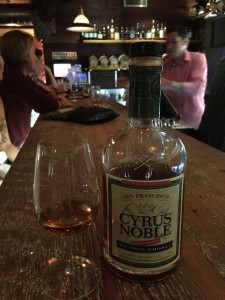 Cyrus Noble Small Batch Bourbon Whiskey. San Francisco, United States. ABV: 45%. Tasted at Varnish on King.
Well, after a brief sabbatical it's time to get things back on track. Fear not, there have been many whiskies consumed but after a well-deserved break it's time to get back to it!
Colour: Twerking copper.
Nose: Toffee and rye. Holding off tasting it as the as the "un-prickly" nose (according to my good mate Damo) is pretty fucking amazing.
Palate: Smooth soft entry, somewhat fruity – some tart pineapple flavours balances out with some peppery liquorice flavours.
Finish: Medium length, mid-palate finish.
Comments: The nose was definitely the standout here. It's good to get back into posting, some exciting things coming up this year!