by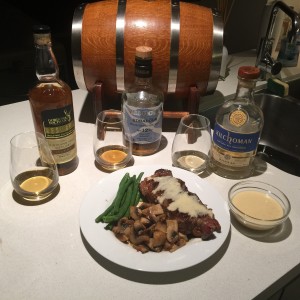 Three whiskies with sirloin and a smoked cheddar sauce…it's a mouthwatering way to spend a quiet night in. Long time readers will know that I love my whisky (obviously) but also fine food and cooking, so the step from tasting a Whisky a Day to exploring whisky & food pairings is a logical one.
For this exercise, seeing as I'm a novice at pairing whisky with food I decided to cook one meal and try it with three contrasting styles of whisky to begin exploring what flavours might work together. I've got a fantastic cut of sirloin, then I made the sauce using a smoked cheddar from the Margaret River Dairy Company along with some cream and a few other goodies. These are all whiskies I've tasted before, which was a deliberate choice as I'm already familiar with each dram and know what to expect, plus I figured to taste a whisky for the first time and consider the food combination as well might be overcomplicating things a little.  So without further ado, let's get tasting!
Gordon & MacPhail Reserve Highland Park 15 Year Old Single Malt – Exclusively Bottled for Dram Full (Cask No. 4255): The fruity vanilla notes get a bit drowned out by the rich smokiness of the cheddar and salty char-grilled goodness of the steak. But surprisingly, they then come through like a wave. Even when taking a sip of whisky while still having some steak and sauce in my mouth to let the flavours really get to know one another, it's not a comfortable union. It's almost like the cheese and whisky are playing tug of war for the attention of my tastebuds. When the cheddar cuts through you get more alcohol notes without the whisky flavour. I love this whisky on its own, but it doesn't really work with the food here.
Edradour 12 Year Old Caledonia Selection: A much better match – the rich sherry and caramel notes of the whisky balance out the sharpness of the cheddar beautifully. It doesn't have the alcohol heat come through like the Highland Park. The sweetness complements the charring on the steak brilliantly as well. The Caledonia was the only whisky that I had to go back to get a refill…which should indicate how much I enjoyed this combo!
Kilchoman Machir Bay Single Malt: I have to admit I wasn't quite sure how this combination would go – a char-grilled steak; a sharp aged cheddar sauce; and then the smokiness of an Islay malt. Does it work? Absolutely!! I think that perhaps because the Machir Bay has some slightly sweeter notes compared to other Islay malts, it definitely works with the steak and smokey cheddar combination. I noted in my original review last year that it didn't have the peatiness or the meatiness of the really great Islay malts, but for this particular setting with some other dominant flavours it actually compliments the steak and sauce beautifully.
Overall comments: I love my steak, usually accompanied by a big ballsy red wine with lots of flavour and rich fruitiness. We're lucky here in Australia to have some absolute ball-tearers when it comes to red wine, so the notion of having a whisky with a big juicy steak was a step into the unknown. I think the Edradour Caledonia was definitely the pick of the combinations, though the Kilchoman Machir Bay was a close second. Maybe the sweetness and rich, caramelised fruitiness of the Caledonia was akin to some of the bold, fruity red wines I'd usually go for? To test this theory, as always I might just have to continue the research…