by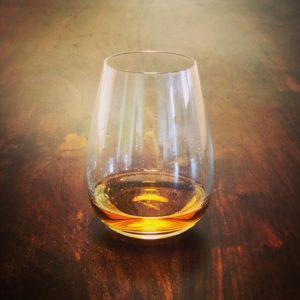 Tormore 16 Year Old Single Malt. Speyside, Scotland. ABV: 48%. $16 (50mL bottle split).
Colour: Polished copper.
Nose: Vanilla cream biscuits dunked in a hot cuppa tea.
Palate: Juicy and tangy with some spice (think cinnamon and cloves). Like an orange marmalade reduction or the jus from duck à l'orange.
Finish: Salty but some sweetness shines through in the finish. Treacle, salted caramel and tart blueberries. A warming salty tingle, some tobacco notes in the fade…like you've just taken a puff of a cigar.
Comments: I can't even remember the last time I had duck à l'orange. The closest thing would have to be Kylie Kwong's signature five spiced duck that I last tried maybe 10 years ago at her Sydney restaurant Billy Kwong…a stunning dish that etched itself into my mind. I reckon it's amazing how certain tastes and smells can trigger a memory and transport you back to another time. Great balance of contrasting and yet complementary flavours; so easy to drink that without realising I almost finished the glass before making too many notes.