by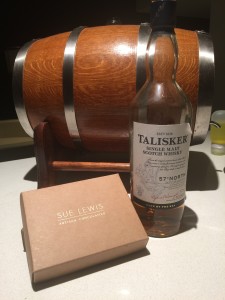 Whisky and chocolate…it's been a partnership I've wanted to explore for a while, so when I heard of a fantastic chocolatier in Perth named Sue Lewis (http://suelewischocolate.com) who makes whisky truffles, I just had to try them. Sue mentioned that when she makes the ganache for her truffles, she only adds the whisky towards the end so that the flavours of the whisky are preserved and unaffected by other flavours and the heat required to make the ganache.
On this occasion, Sue had some milk chocolate truffles made with The Glenlivet 12 Year Old Single Malt as well as some Knob Creek Small Batch Bourbon Dark Chocolate Truffles. I also have a weakness for salted caramel, so I grabbed some of her salted caramel dark chocolate truffles as I figured they might go nicely with a smokey or spicy malt.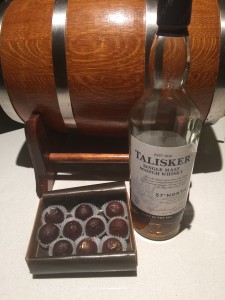 Glenlivet Milk Chocolate Truffles with The Glenlivet 12 Year Old Single Malt: Milk chocolate truffles with a chocolate ganache with The Glenlivet 12 Year Old. A very faint hint of whisky, but it's very subtle. Chocolatey almost rum ball kind of flavours to the ganache. Smooth, creamy milk chocolate, the ganache almost has some hazelnut flavours to it. I think the truffles are amazing, though perhaps The Glenlivet 12 is too subtle a whisky to let its characteristics shine though over the rich creamy chocolate flavours. I think the whisky compliments the chocolates very nicely, but truffles are definitely the star in this pairing.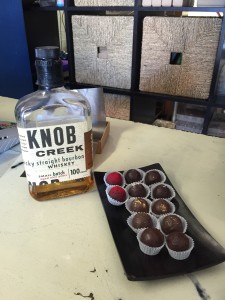 Knob Creek Small Batch Bourbon Dark Chocolate Truffles: Dairy free dark chocolate with Knob Creek 9 Year Old Small Batch Kentucky Straight Bourbon. These were sweeter than the Glenlivet truffles, presumably that's the bourbon's sweeter characteristics shining through. Rich, brown sugar & cream notes, dry cocoa too. As a whisky truffle I think this combination allows the bourbon flavours to come through more compared to the Glenlivet truffles, though purely on flavour I'd go for the Glenlivet truffles (even if the whisky influence is extremely subtle).
Salted Caramel Dark Chocolate Truffles with Talisker 57° North Single Malt: These truffles did not contain any whisky, but I figured a salted caramel truffle would be a good match for the salty, rich and subtle honeycomb flavours of the Talisker.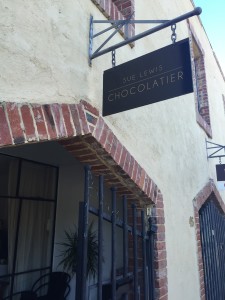 There was a satisfying crack as we snapped through the exterior of the salted caramel truffle. The Talisker was smokey on the nose, but had some intense saltiness on the palate…which complimented the salty sweetness of the salted caramel truffle brilliantly. Stunning. Individually they are both great, but together they are amazing. Wow, what a combination. I think the dark chocolate worked particularly well with the salted caramel and whisky combo.
Overall, the Glenlivet truffles were fantastic on their own and would appeal to everyone, whether a whisky fan or not. I'd like to try some truffles containing whisky with a bit more body and character, maybe some rich sherry flavours from say an Aberlour. But the winner was definitely the salted caramel dark chocolate truffles – you don't have to have whisky in the chocolate to enjoy whisky with chocolate. These flavours were amazing with the Talisker 57° North, though I'd like to explore some more dark chocolate, salted caramel flavours with some other smokey and spicy malts, particularly from Islay.
If you're in Perth I'd suggest you pick up some dark chocolate salted caramel truffles, grab a few Islay or other Island malts and settle in for a night of gastronomic experimentation, you won't be disappointed.