by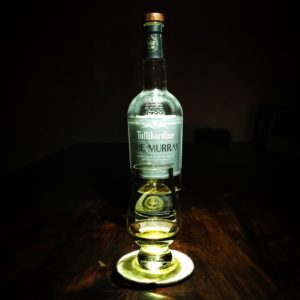 Tullibardine The Murray 2004 Cask Strength Single Malt. Highlands, Scotland. ABV: 56.1%. Tasted at home, $130 (bottle).
Colour: A dull yellow gold.
Nose: Fresh hay, malty cereal notes and lemon zest.
Palate: The flavours envelope your palate, they consume your thoughts for a moment as the whisky drowns out the empty space in your mouth. Toasted malt, honey and woody notes (like when the doctor puts the wooden stick on your tongue and asks you to say "ahhhh").
Finish: Fresh oak, washed rind cheese, wafer biscuits and raw honey…the kind that still has lumps of honeycomb. Quite dry, medium length.
Comments: A dram of reflection; at times direct and quite simple, yet it has this come hither aspect to it. Like flames of a fire licking warmth towards you, drawing you closer.