by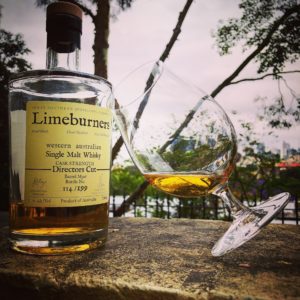 Limeburners Directors Cut M326 Cask Strength Single Malt (bottle 114 / 199). Great Southern Distilling Company. Albany, Western Australia, Australia. ABV: 61%. Tasted at home.
It's an unusually cold and rainy November afternoon in Sydney…some beef bourguignon is slowly simmering on the stove, time to bust out some peated sherry perfection from Limeburners in the form of their latest Directors Cut. Limeburners have recently picked up a swag of international awards, including Southern Hemisphere Whisky of the Year in Jim Murray's Whisky Bible 2018 for their Darkest Winter release.
Like the Darkest Winter, this Limeburners Directors Cut has been smoked with peat sourced from the Valley of the Giants in the Great Southern region of Western Australia, not far from the distillery in Albany. It's the only whisky in the world using this peat source which makes it quite a unique flavour.
Colour: Bright candied orange/gold.
Nose: Like walking through a damp forest or timber plantation where there's fresh sawdust on the ground. Pine needles, hessian sacks and lemon sherbet hard boiled sweets.
Palate: It's not your typical smokey peat at all – quite floral and herbaceous, with whipped cream and subtle liquorice notes.
Finish: A long satisfying tingle on the mid-palate; sweet smoke and creamy raspberry icing flavours too.
Comments: Matured in an ex-bourbon barrel and finished in an old Australian ex-Sherry cask, this is fresh, a touch musty but has some tantalising green woody notes.
When you're reviewing a damn tasty cask strength whisky, it's always a challenge to remember to make some tasting notes before you finish the whole bloody thing and have to pour another…and then it's even harder to remember to make some tasting notes before…you get the picture.
I've re-filled my glass three times now, it's that good.