by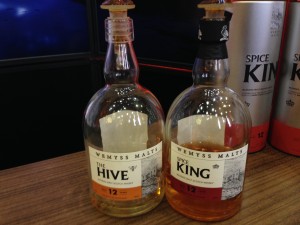 Wemyss Malts: The Hive 12 Year Old Blended Malt (ABV: 40.00%), Speyside, Scotland; & The Spice King 12 Year Old Blended Malt (ABV: 40.00%), Highlands, Scotland. Tasted at Whisky Live 2014.
Well I've made my way to the Wemyss blended whiskies now from Highlands and Speyside. I have to say after having the peaty whiskies from Isle of Jura, my palate is absolutely shot.
The Heemes, – sorry I mean the Wemyss (I can't even speak properly now!) – The Wemyss 'The Hive' which is their Speyside blend – it's called The Hive because it's got honey-like tastes to it. Nup – I couldn't tell it. Either I've had too many whiskies today, or my palate is goooooone after all the peat.
Similarly for 'The Spice King' which is the Highlands blend – it's just not happening for me. The nose, the palate, everything is just gone – the palate…yeah nup. Nothing left in the tank folks, over and out.
I guess it just goes to show that if you're heading to a whisky tasting event, you really need to plan out your whisky tasting strategy for the day. I think I did reasonably well on that front, with the Wemyss blends the only whiskies I would have preferred to have had at an earlier stage.