by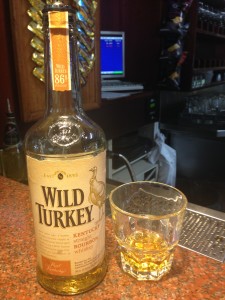 Wild Turkey Bourbon Whiskey. Kentucky, United States. ABV: 43.40%. Tasted at The Point (Sydney), $8.50.
Colour: Pale amber.
Nose: Freshly sanded pine timber floorboards.
Palate: Liquorice. Quite thin on the palate, drying sensation with soft peppery notes.
Finish: Minimal heat, medium length with soft aniseed flavours to fade.
Comments: Not as harsh as I was expecting. The old Wild Turkey cops a bit of a flak but to be honest it was ok – I've certainly tasted much worse throughout the Whisky a Day year!