by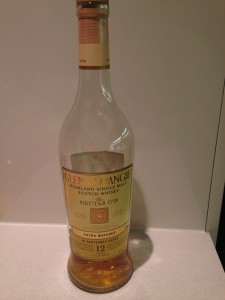 Glenmorangie The Nectar D'or 12 Year Old. Highlands, SCOTLAND.  ABV: 46.00%. At home, $80 (bottle).
Appearance: Caramel. Damn – am I going to be able to come up with 364 other ways to describe the various golden shades of whisky?!
Nose: Fragrant and slightly sweet.  Makes you want to dive in and just taste it rather than sniff it all day.
Palate: Smooth when it first hits the tongue, slowly warming as it fills the mouth.  Sweet flavours with some spices, hard to pinpoint exactly what they are.  Tastes bloody good though.
Finish: Lingering sweetness and a warm tingle at the front of the tongue.  Leaves a distinct desire to have some more!
Comments: I chose this whisky to start as it has been my favourite for quite some time now, I much prefer it to the other Glenmorangie extra matured expressions Quinta Ruben & Lasanta.  I'll try it again on December 31st (it'll be the only dram I taste twice throughout the project!) and see if it is still my favourite after a year of my Whisky A Day adventure!  At the very least, I will be interested to see how my appreciation of whisky has progressed.