by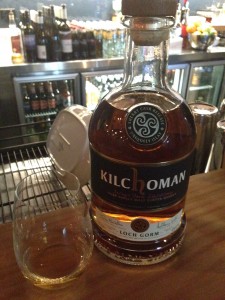 Kilchoman Loch Gorm Sherry Cask Matured Single Malt.  Islay, Scotland.  ABV: 46.00%.  Helvetica, $21.
Appearance: dark shade of Amber (i.e. she spent too much time in the spray tan booth).
Nose: earthy, peaty notes.
Palate: smooth smoky charcoal, a little sweet, maybe a hint of buttery walnuts?
Finish: lingering sweet peaty tastes, long after you've finished the sip.
Comments: doesn't strike me as similar to other sherry matured whiskies. Peat sort of overwhelms the sherry flavours. But still very drinkable!