by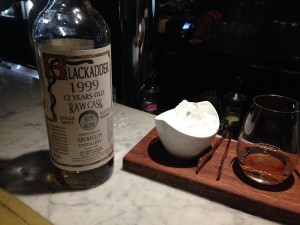 Blackadder 1999 12 years old Raw Cask.  Distilled at Mannochmore Distillery, Speyside, Scotland.  ABV: 60.9%.  The Royal Hotel, $16.
Appearance: pale straw. Similar in colour to a third-day pitch at the SCG where the Aussies typically wrap up the Ashes. What's that Pommies, 5-nil?!
Nose: Hay / grassy scents. Not the strong waft of alcohol that I was expecting from a cask strength whisky at 60%.
Palate: Woody notes, a moderate amount of peat.
Finish: Ah, there's the alcohol kick.  Lingering warm sensations, slowly filling the mouth and moving back on the tongue. Much like my date the other night!
Comments: dangerously drinkable, I'm predicting this will be one of my favourites. Didn't have the pungent alcohol kick or fumes I was expecting from a dram at 60%.  Quite a rare drop being a single cask release, only 304 bottles released.  Definitely will be coming back to have some more of this one before they run out.