by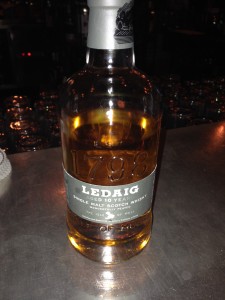 Tobermory Distillery, Ledaig 10yr. Isle of Mull, Scotland. ABV: 46.3%.  Bobèche, $16.
Colour/etc: pale gold. Like a flat glass of VB.
Nose: a little insipid, not too many strong or distinctive aromas. Inoffensive.
Palate: Salty initial tastes give way for strong smokey peat flavours, a surprise given they didn't come through strongly when sniffing. Tastes great though!
Finish: Medium linger, stays at the front of the palette.
Comments: nice flavours, but a tad disappointed with the nose. Kinda feels like it's short changing you & you're missing out on half the experience.  It will be a challenge to find whiskies on a Monday in Perth – not too many venues with a decent whisky selection open.  Fortunately Bobèche has a modest selection of 14 drams that will get me started on Mondays, think I might have to come back here every week!