by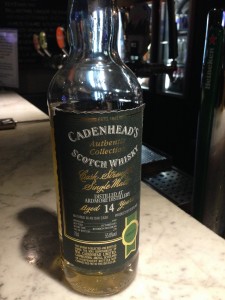 Cadhenhead's Authentic Collection Ardmore 14 yr Cask Strength Single Malt. Highlands, Scotland. ABV: 55.8%. The Royal, $17.
Colour: very light, pale straw colour. Like a Chinese Olympic swimmer's diluted post-race "sample".
Nose: Thankfully it doesn't smell of chlorine, human growth hormone or urine. Very peaty, also fruity floral notes.
Palate: warm spice. The long lost 6th member of the Spice Girls. Some sweetness too, maybe some walnut or almond flavours? Hard for me to pinpoint.
Finish: Sweet smooth finish, gentle warming of the mouth.
Comments: An independent bottling from the Ardmore distillery.  It's like it's trying to be an Islay, particularly with such a strong peaty aroma, but it's much smoother and sweet at the end. I like it. I'm also starting to appreciate what a great little whisky selection they've got at The Royal, which is rather handy as it's my local.  It will be great for those nights when I can't be arsed heading out elsewhere after a long day and I can walk down to my local and sample some whiskies that I haven't seen in too many other venues around town.