by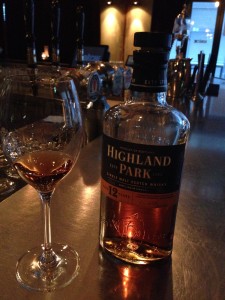 Highland Park 12 Year Old Single Malt. Orkney Islands, Scotland. ABV: 40.00%. Bobeche, $15
Colour: bright, golden syrup-like colour
Nose: oaky, malty notes.
Palate: very soft & smooth, minimal alcohol heat. Subtle sweetness.
Finish: dry, slightly peaty & smoky finish. Doesn't linger long.
Comments: Disappointed again in Jim Murray's Whisky Bible description of this one, no tasting notes – he just talks about it being one of his all time favourites, one of his "desert island whiskies". It's ok in my opinion, I've heard a lot about Highland Park but was left feeling a little flat. Kind of like going on a date with a really hot girl you've been interested in for a while, only to discover when you talk to her that that she's actually quite dull. You'd probably go back again if there weren't too many other options but you'd prefer to try something else. Maybe her older sister, Highland Park 25 perhaps?