by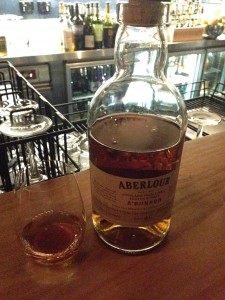 Aberlour A'bunadh Single Malt, Batch #45. Speyside, Highlands, Scotland. ABV: 60.20%. Helvetica, $19.
Colour: dark toffee.
Nose: caramel fudge & fruit cake.
Palate: chocolatey brown sugar notes.
Finish: salted caramel with a bit of heat that has longitudinal qualities. Giles the dutiful DPC advisor reports that's "Yes Minister" language for "it has length".
Comments: Somewhat unsurprisingly (perhaps to all except the man himself), Giles' wife has never described him as having "longitudinal qualities".