by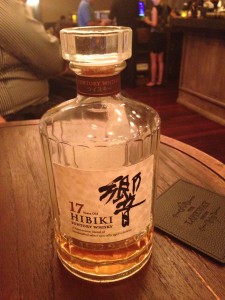 Suntory Hibiki 17 Year Old Blended Japanese Whisky. Osaka, Japan. ABV: 43.00%. The Laneway Lounge, $20.
Colour: pale gold. Shit this is getting hard to come up with new ways to describe shades of straw/gold/amber.
Nose: hmmm, found it a little hard to describe the nose on this one. Ended up trying to come up with witty descriptions with my mate Tim who joined me on this tasting; we got sidetracked and finished a rather enjoyable dram without a) making suitable notes on the aromas, or b) coming up with anything suitably comical to make the cut onto this post. 
Palate: taste has a hint of dried apricots. And a hint of a taste of whisky.
Finish: oily finish on the tongue, bit of heat.
Comments: I had no idea Suntory did blends. Apparently there's over 30 different single malts from Suntory's three distilleries that went into this one. Not sure how you'd add 30 components of any drink or food and expect them to all have a significant influence on the final flavour. A nice drop, but a little bit one dimensional for my tastes.