by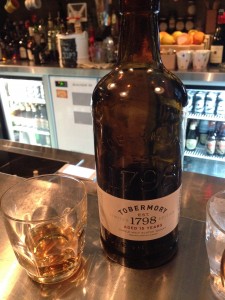 Tobermory 1798 Limited Edition 15 Year Old Single Malt. Isle of Mull, Scotland. ABV: 46.30%. Choo Choo's, $14.
Colour: leathery middle aged Amber.
Nose: currants or some other dried fruit. Don't tell Putin, he's not a fan of fruits.
Palate: very smooth entry, sherry like flavours. Maybe some dry cocoa flavours?  Not entirely sure about the cocoa, but there's something there.
Finish: dry with a hint of sweetness, fades with a bit of heat.
Comments: Huh, bit of trivia…prior to the Whisky a Day project I hadn't even heard of the Isle of Mull as a whisky region of Scotland.  Turns out that the only distillery there (although I stand to be corrected!) is  Tobermory, who also produce Ledaig…both of which I have tried within the first 6 weeks of the project.  Would be keen to try another dram of this one to explore the tastes in more detail.