by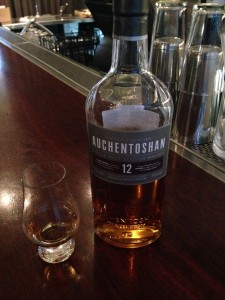 Auchentoshan Triple Distilled 12 Year Old Single Malt. Lowlands, Scotland. ABV: 40.00% . The Trustee, $12.
Colour: plain old amber, no makeup. Not as dark as the Auchentoshan Three Wood (which obviously has spent considerable time in sherry casks).
Nose: buttery toffee scents.
Palate: smooth & oily.
Finish: quite a thin, short finish.
Comments: triple distilled Auchentoshan? How very Irish of you. Quite ok, nothing too out of the box to remark on – just a solid, smooth, middle of the road single malt.  I definitely prefer the Auchentoshan Three Wood, which has a bit more depth and character than this entry-level dram.