by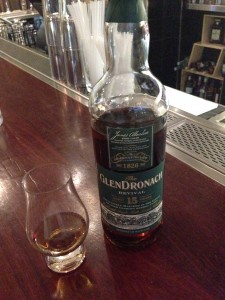 Glendronach Revival 15 Year Old 100% Sherry Matured Single Malt. Highlands, Scotland. ABV: 46.00%. The Trustee, $15.
Colour: deep brownish amber, clearly showing it's sherry roots.
Nose: currants definitely, cloves & cinnamon maybe?
Palate: soft, warm chocolatey type flavours.
Finish: gentle heat fills the mouth, but the best part is that the flavours last for ages in your mouth and don't morph into something else.
Comments: Like biting into a really moist sticky date pudding drizzled in some salted caramel sauce *drool*. I had a bottle of this at home a few years ago and it was my first experience of a sherry matured whisky. Thought it was ok at the time, but maybe because of this early experience I've never considered myself much of a sherry head. Glad I've tried it again – definitely the best sherry dram of the project I've had so far.