by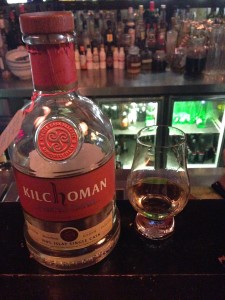 Kilchoman Single Bourbon Cask 5 Year Old. Islay, Scotland. ABV: 61.00%. Canton Lounge, $20.
Colour: quite a pale straw, perhaps unsurprising given it only spent 5 years in an ex bourbon barrel. 
Nose: strong alcohol vapours, although they soften with a bit of time in the glass. Peat dominates but some floral scents come through.
Palate: Rich warm flavours, but the peat just keeps coming. Salty.
Finish: long and smokey, it's like a warm peaty vapour cloud expanding in your mouth.
Comments: a single cask bottling, only ~260 bottles released. Not sure they should have tapped the barrel after only 5 years,
it could have done with some more time to soften up a bit. Maybe they've released it early so they've got a different offering in the Kilchoman range. Can't say I've ever tasted such a young whisky before.