by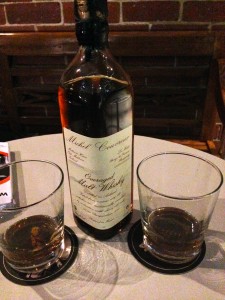 Michel Couvreur Overaged Single Malt Whisky. Burgundy, France. ABV: 43.00%. Lafayette, $20.
Colour: deep coppery sherry colour.
Nose: sweet fruit chutney initially, maybe a hint of currants.
Palate: smooth, almost cool sensation when you first sip it. Tastes like a candied raisin. I haven't ever tasted a candied raisin, but it's the best way to could describe it. Kind of like those dried fruit & nut bars bound together with sugary caramel, but without the nuts.
Finish: very smooth, creamy; not much heat, a gentle fade of the flavours.
Comments: distilled in one country, matured in another – the bastard child of Scotland & France. Smooth entry, smooth finish. Only after reading this did I realise how inappropriate those two sentences are together. Lots of flavour, much more complex and (frankly) tasty than the Benromach I tasted just prior to this. Very interesting, I hadn't ever come across a French whisky before, although the Scots can certainly lay claim to having a hand in it too. Keen to try the other Michel Couvreur expression they've got behind the bar at Lafayette.