by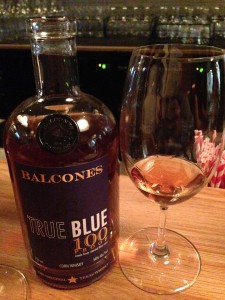 Balcones True Blue 100 Proof Corn Whisky. Waco, Texas, United States. ABV: 50.00%.  Tasted at Pleased to Meet You.
Colour: Cherry brandy.
Nose: Burnt toffee. Has soft feints almost a bit like a leather glove, very soft though.
Palate: Toasty woody notes, hint of vanilla at the end.
Finish: Quite dry, but heat & spice hang around the front half of the mouth for ages.
Comments: Like being smacked in the mouth with an old boxing glove, this had a somewhat sweet leathery sweaty smell to it, but one that keeps you coming back for more. Would definitely go a few more rounds with this contender.