by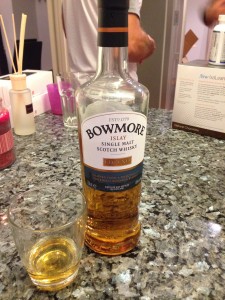 Bowmore Legend Single Malt. Islay, Scotland. ABV: 40.00%. Tasted at my place, $0 – courtesy of my mate Gordy.
Colour: Brilliant gold.
Nose: Peat, lots of peat and band-aids.
Palate: Oily mouthfeel, but quickly dries. Clean entry, briny.
Finish: Peppery smoke & heat gradually fills the mouth, medium length flavour, warmth hangs around a little longer.
Comments: Gordy, much like the whisky – legend! Overall though it's a solid Islay dram, nothing too out of the box though.